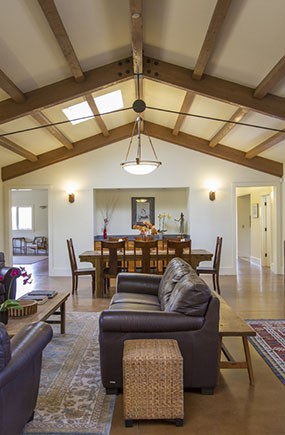 Serene Sanctuary
3 Beds
•

3 Baths

•

3,900 SF

•

10.55 Acres

•

860sf Guest House

•

$2,250,000

1100 Oak Springs Lane, Santa Rosa, CA 95404, USA

A serene sanctuary in the rolling hills of Sonoma County...
A marriage of unsurpassed leading edge building science, design and craftsmanship are the hallmarks of this panoramically sited home on approx. 10.55 acres.
The 3 bedroom, 3 bath home, plus office is a "light drenched" treasure. Beautifully sited in the enclave of a private gated community of estate homes.
The floor plan thoughtfully considers both privacy and social gatherings, while taking advantage of views from every room. This GreenPoint rated home, 221 total points, with true passive solar design, was built to enhance long term durability; it features a family room with trombe wall, hydronic floor heating, living room with Rumford fireplace, a heat recovery vertilation for high quality interior air, four ventilating skylights, and many more energy efficient elements.
A detached quality well-appointed one bedroom cottage with a covered front porch is a handy bonus that will fill all kinds of needs. It is well sited to afford optimum privacy to both homes and has wonderful views. This home was built by owner-builder Bruce Hammond of Hammond Fine Homes Inc., www.hammondandcompany.com, for his family. He has been building low environmental impact, healthy, "green" homes in the Bay Area, for 26 years, since 1988… long before "green" was a trend.
In Bruce's own words...This home and the surrounding landscape work were begun in 1999 with the inspiration to build a high quality demonstration of sustainable building and ecologically appropriate site development. Key ecological concerns served as the touchstones which were held to all through the project. When I look back on them they are easily recognized as the foundation underneath the technicalities of the now fully developed residential rating systems of the national program "LEED for
Homes", developed by my colleagues at the US Green Building Council, and the locally developedprogram here in California "Green Point Rated" developed by colleagues at Build It Green.
Passive Solar Design
This home is a true passive solar design. This means that the driving principals which established the design of the building were intended to let the house do all it can to be its own source of energy first, prior to getting power from any other source. The key elements considered in passive solar design are;
Building orientation
A thermally efficient building envelope
Careful sizing, location, and glazing type for all windows
Thermal mass
Passive ventilation
Calculated roof eave overhangs for winter solar contribution Landscape, site species & pond
The gardens are spread cross-slope to benefit from natural gravity water runoff and the pathways serve as water flow transit during the winter rains. All roof edge collected rainwater and the base of foundation wall drainage systems flow to constructed "vernal pool" basins to foster bio diversity and seasonal wetland conditions. They are also directed to the base of the planted berms constructed to slow water and which create long lines of flow so that the benefits of site storm water flow is maximized.
California native plant species are prominently represented in the varied plant communities on site, as are Mediterranean species selected for deer resistance and drought tolerance. The site garden plan is a "Bay & River Friendly" design which has never had any chemical fertilizers or pesticides used and has always depended on liberal annual use of compost and mulch to steward water and improve the mineral rich adobe soils while adding important organic matter. This has significantly increased insect, bird, and animal biodiversity on the site. We commonly see deer, raccoon, skunk, opossum, and less commonly fox, coyote, and bobcat.
Bird species include the ever present wild turkey, as well as many species of humming birds, quail, heron, egret, bluebird, song sparrow, gold finch, swallow, blackbirds, meadow lark, barn and great horned owls, and a wide variety of raptor species including merlins, kestrels, harriers, red shouldered and red tailed hawks, and occasionally, a golden or bald eagle. The pond at the rear patio has brought in the water birds, while hosting frogs, dragonflies, our goldfish and minnows and also providing the calm sounds of water falling from the cascade into the pond. Winter sees freezing conditions at times and even so, in spring the pond comes back to life once again.
This home is heated passively by the sun first, and then, any supplemental heating needed is provided by a highly efficient propane fired Munchkin boiler which delivers it's heat through an in-floor radiant heating system in the concrete floors. The same boiler provides the domestic hot water for the house. There is a solar hot water heating system, with panels at the garage roof and a storage tank in the garage itself, which provides the pre heating for all hot water.
The opportunity here includes the luxury of indulging yourself in one of the most beautiful places in the world knowing that you have treated the Earth kindly too...

Constance Sharpe

Lic#01300629
707.484.3094
constance.sharpe@gmail.com
SonomaExpert.com
DISCLAIMER:
Sotheby's International Realty ® and the Sotheby's International Realty logo are registered (or unregistered) service marks used with permission. Operated by Sotheby's International Realty, Inc. The information set forth on this site is based upon information which we consider reliable, but we cannot represent that it is accurate or complete, and it should not be relied upon as such. The offerings are subject to errors, omissions, changes, including price, or withdrawal without notice.


The above information including square footage is based on data received from the seller and/or from public sources. This information is deemed reliable but has not been independently verified and cannot be guaranteed.